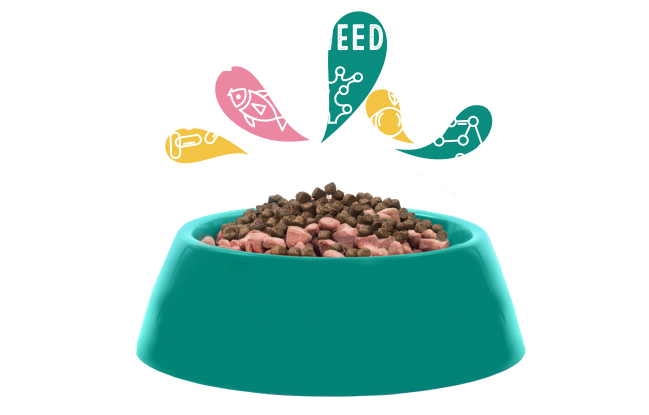 OUR CORE INGREDIENTS
Tapping into nature, we source the best ingredients, both tried-and-true and groundbreaking. Unbridled goodness compressed in a science-backed kibble makes your life easier and your canine companion healthier.
L-Tryptophan
An amino acid and protein building block, it is called 'essential' because the body cannot produce it on its own. This amino acid is important for supporting steady, balanced behavior.
Salmate®
Our harmonious, proprietary formula of Omega-3 Fatty Acids including EPA and DHA from sustainably sourced, wild caught salmon with natural antioxidants. Encapsulated in a starch matrix to prevent oxidation and allow maximum immune response.
Icelandic Seaweed
(or Seaweed-Derived Calcium)
Certified organic by OMRI (Organic Materials Review Institute), Icelandic Seaweed is a sustainably harvested sea plant which grows in the clean, cold waters of the Atlantic Ocean in the fjords of Iceland. Full of highly bioavailable calcium, magnesium and 72 other trace minerals, this superfood supports strong bones, joint and gut health.
Turmeric
Turmeric is touted for supporting joint health. Used for centuries around the globe, it bonds perfectly with other ingredients.
Ginger Root
Added to support gut health and nausea, ginger root has been used in many applications in humans and dogs.
Flax Seeds
Pure ground flax seeds are a rich source of Alpha- Linolenic Acid (ALA), a mostly plant-based Omega-3 Fatty Acid. ALA is important for skin and coat health.
5-Strain Probiotics
Encapsulated using our proprietary technology to ensure probiotics are live and efficacious through the shelf life of the bag. Probiotics are known to support healthy gut microflora, immune system health and much more.
Prebiotic Fiber Blend
A precisely formulated blend of high quality plant fibers that work synergistically together to support the growth of healthy gut microflora.
Kelp
From the clean waters of the northern Atlantic Ocean, this breed of kelp has important prebiotic properties, as well as other nutrients, to support immune & gut health and overall wellness.
Green Tea Extract
Green Tea has been in use for many millennia and is known for its antioxidant properties. The extract used in our product contains higher levels of the amino acid L-theanine, which may help support steady, balanced behavior in all situations.
Fruits & Veggies
A beautiful blend of superfoods: cranberries, blueberries, kale, spinach and carrots. Pulled together to give your canine companion an extra dose of nutrients and antioxidants.
THE ROOT OF WHO WE ARE
We are animal lovers, united by that love and driven by science and research. The way our intentionally selected ingredients work together and magnify their benefits mirrors our teamwork. We each have our focus, but know we're greater when we work arm in arm.