Daily Wellness Supplement
Focused on holistic wellbeing to help your dog beam throughout the day.
Our Daily Wellness Supplement has no artificial fillers and is packed with fresh ingredients, such as Probiotics together with Prebiotics, protected Wild Salmon Oil (Salmate®), Turmeric, Organic Icelandic Seaweed, and Fruits & Veggies.
*Formulated for dogs of all breeds, ages, & sizes
Nutrition
Nutrition
Our proprietary Daily Wellness supplement is formulated by top nutritionists and veterinarians. It includes: 5-Strain Probiotics, a precise Prebiotic blend, Salmate(R) for Omega-3's, Organic Icelandic Seaweed, Fruits & Veggies and much more to support overall wellness for a Happy Go Healthy Lifestyle!
Feeding Instructions
Feeding Instructions
Use the enclosed scoop to top or mix in the correct amount of supplement with your dog's regular meal, or feed alone. We recommend an initial dosage period of four to six weeks; some dogs may respond sooner. The number of scoops may then be reduced to the maintenance dosage level. The supplement can be given once a day or split up. On initial dosage, gradually work up to the correct amount over 5 days.
Dog Size (lbs.)
Scoops per day (1 scoop=4.25g)
4-6 Week Initial
Dosage Period
Maintenance
Dosage Level
Up to 20
0.5 Daily
0.5 every other day
21 to 50
1 Daily
0.5 Daily
51 to 80
2 Daily
1 Daily
81 to 100
3 Daily
1.5 Daily
Over 100
4 Daily
2 Daily
Ingredients
Ingredients
Salmon meal, tapioca starch, potato starch, corn starch, seaweed derived calcium, dried plain beet pulp, salmon oil, fructooligosaccharide, blueberries, cranberries, kale, spinach, carrot, bacon fat, sunflower oil, natural flavors, yeast extract, torula dried yeast, turmeric, dried Enterococcus faecium fermentation product, dried Lactobacillus casei fermentation product, dried Bifidobacterium longum fermentation product, dried Lactobacillus helveticus product, active dried yeast, citrict acid (preservative), mixed tocopherols (preservative), rosemary extract, selenium yeast.
Core Ingredients
Salmate®
Our harmonious, proprietary formula of Omega-3 Fatty Acids including EPA and DHA from sustainably sourced, wild caught salmon with natural antioxidants. Encapsulated in a starch matrix to prevent oxidation and allow maximum immune response.
Icelandic Seaweed
(or Seaweed-Derived Calcium)
Certified organic by OMRI (Organic Materials Review Institute), Icelandic Seaweed is a sustainably harvested sea plant which grows in the clean, cold waters of the Atlantic Ocean in the fjords of Iceland. Full of highly bioavailable calcium, magnesium and 72 other trace minerals, this superfood supports strong bones, joint and gut health.
Turmeric
Turmeric is touted for supporting joint health. Used for centuries around the globe, it bonds perfectly with other ingredients.
5-Strain Probiotics
Encapsulated with our proprietary technology to maintain actives and guarantee efficacy, probiotics are known to support a healthy gut microbiome.
Prebiotic Fiber Blend
A precisely formulated blend of the highest quality plant fibers available. These prebiotics work synergistically together to support the growth of healthy gut microflora.
Fruits & Veggies
A brilliant blend of superfoods: cranberries, blueberries, kale, spinach and carrots. Intentionally Pulled together to give your canine companion an essential extra dose of nutrients and antioxidants.
ALL EYES ON HIM
Nothing is stopping Charlie's groove. Watch him strut.
A topper that my dog actually likes. He will sniff these out and try to eat them instead of his actual food, silly dog. I am super happy with this supplement and am excited to try out the other types offered. Finding healthy, trustworthy and safe supplements for dogs can be stressful because they aren't just our dog, well at least mine isn't, Diesel is my family so I am extremely careful about what I feed him. With that said I will be a happy go healthy customer for life. They show you every ingredient they use and the correct portions to serve your dog. So if you're not sure I'd say try the small bag, but you won't be disappointed. 😊🐶
8 months ago

Daily Wellness Supplement
It's a little stinky but my pup loves it! Love all the nutrients and how easy it is to add to food as a topper
9 months ago

Daily Wellness Supplement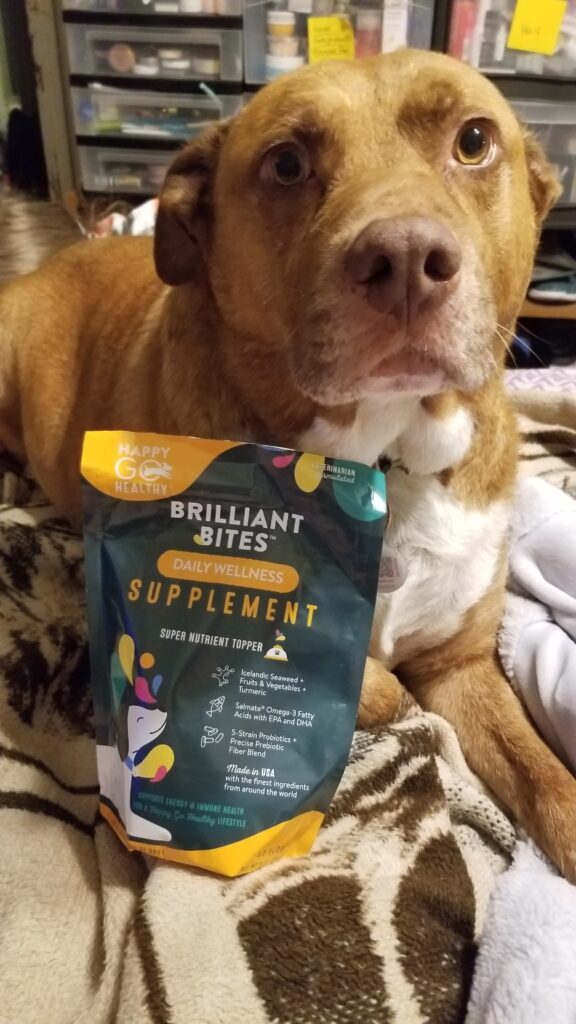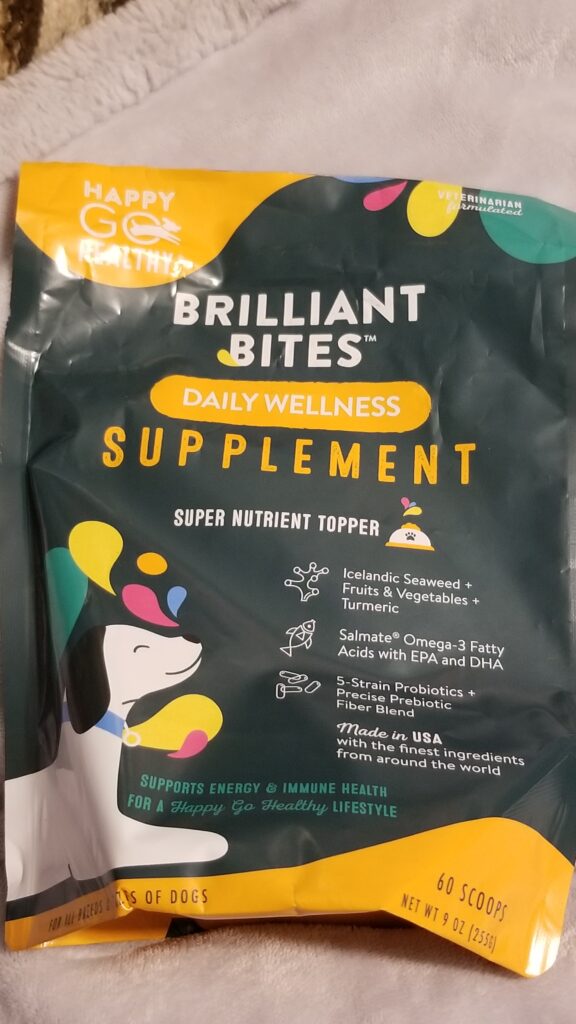 2
My dog rusty has been loving his daily wellness supplement. He waits to eat until it is mixed in with his regular food. I love all the beneficial ingredients there are to help him feel good.
9 months ago

Daily Wellness Supplement
.
WHY HAPPY GO HEALTHY?
We are the first dog supplement range with immune health at its core. Time, knowledge and research, combined with the brilliance of nature, has crafted this super nutrient topper. Plus, it's easy to feed and keeps your dog's tail wagging with delight.
Made in USA with the finest ingredients from around the world
Committed to using FDA and AAFCO recognized ingredients
NO Wheat, NO Soy, NO Artificial Flavors or Colors