Gut Health Supplement
Formulated for digestive support to help your companion's immune system for optimal health.
Our Gut Health Supplement has no artificial fillers and is packed with fresh ingredients, such as Probiotics together with Prebiotics, Organic Kelp, Ginger Root, and Organic Icelandic Seaweed.
*Formulated for dogs of all breeds, ages, & sizes
Nutrition
Nutrition
Our proprietary Gut Health supplement is formulated by top nutritionists and veterinarians. It includes: 5-Strain Probiotics, a precise Prebiotic blend, Ginger Root, Organic Icelandic Seaweed, and Organic Kelp, to support immune & gut health for a Happy Go Healthy Lifestyle!
Feeding Instructions
Feeding Instructions
Use the enclosed scoop to top or mix in the correct amount of supplement with your dog's regular meal, or feed alone. We recommend an initial dosage period of four to six weeks; some dogs may respond sooner. The number of scoops may then be reduced to the maintenance dosage level. The supplement can be given once a day or split up. On initial dosage, gradually work up to the correct amount over 5 days.
Dog Size (lbs.)
Scoops per day (1 scoop=4.7g)
4-6 Week Initial
Dosage Period
Maintenance
Dosage Level
Up to 20
0.5 Daily
0.5 every other day
21 to 50
1 Daily
0.5 Daily
51 to 80
2 Daily
1 Daily
81 to 100
3 Daily
1.5 Daily
Over 100
4 Daily
2 Daily
Ingredients
Ingredients
Dried plain beet pulp, turkey meal, fructooligosaccharide, tapioca starch, seaweed-derived calcium, potato starch, dried kelp, ginger root powder, yeast extract, torula dried yeast, natural flavors, sunflower oil, bacon fat, magnesium oxide, dried Enterococcus faecium fermentation product, dried Lactobacillus casei fermentation product, dried Bifidobacterium longum fermentation product, dried Lactobacillus helveticus product, active dried yeast, citric acid (preservative), mixed tocopherols (preservative), rosemary extract.
Core Ingredients
Icelandic Seaweed
(or Seaweed-Derived Calcium)
Certified organic by OMRI (Organic Materials Review Institute), Icelandic Seaweed is a sustainably harvested sea plant which grows in the clean, cold waters of the Atlantic Ocean in the fjords of Iceland. Full of highly bioavailable calcium, magnesium and 72 other trace minerals, this superfood supports strong bones, joint and gut health.
Ginger Root
Added to support gut health and nausea, ginger root has been used in many applications in humans and dogs.
5-Strain Probiotics
Encapsulated with our proprietary technology to maintain actives and guarantee efficacy, probiotics are known to support a healthy gut microbiome.
Prebiotic Fiber Blend
A precisely formulated blend of the highest quality plant fibers available. These prebiotics work synergistically together to support the growth of healthy gut microflora.
Kelp
From the clean waters of the northern Atlantic Ocean, this breed of Organic Kelp has important prebiotic properties, as well as other nutrients, to support immune & gut health and overall wellness.
WHAT'S HIS SECRET?
Stanley has a gut feeling that Charlie's game has changed. See how.
Powered by
I wanted to try a probiotic to help with my dogs skin issues and her occasional soft stools. Its been to early to know about the skin but she likes the taste and her poops have been good!
4 months ago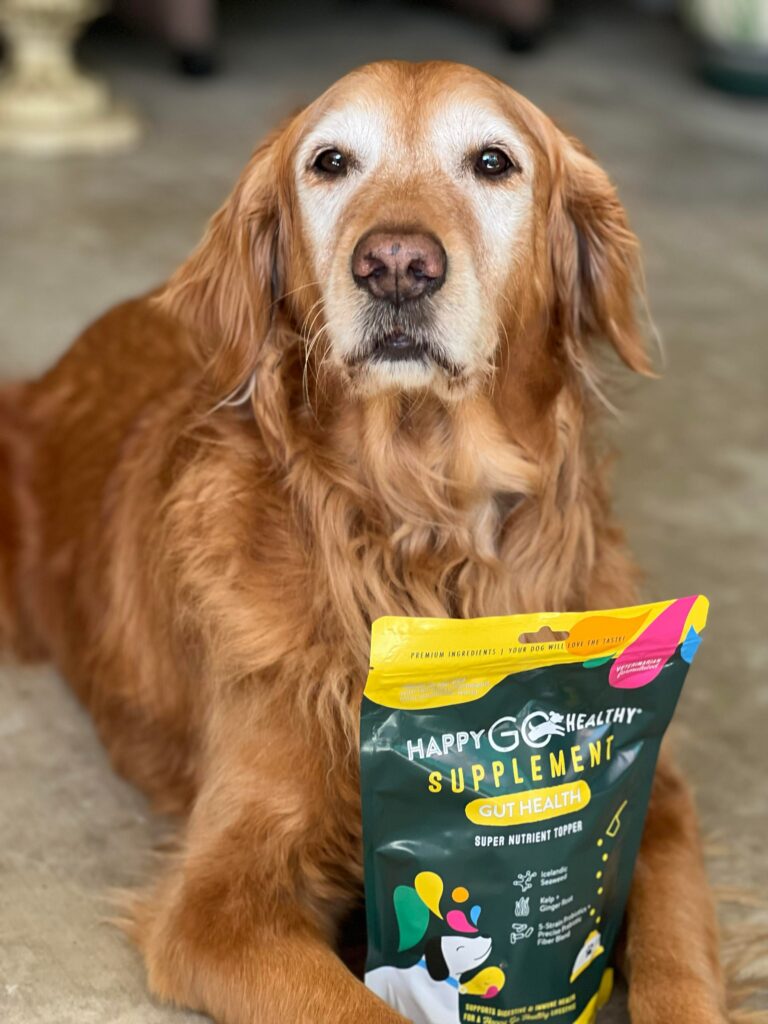 1
The gut health topper really made a difference for a senior golden. She has a sensitive stomach and oftentimes has issues after having anything outside of her kibble. She was intrigued by the topper and ate it up quickly! We've noticed that she's been feeling a whole lot better and her gut issues have dramatically decreased!
6 months ago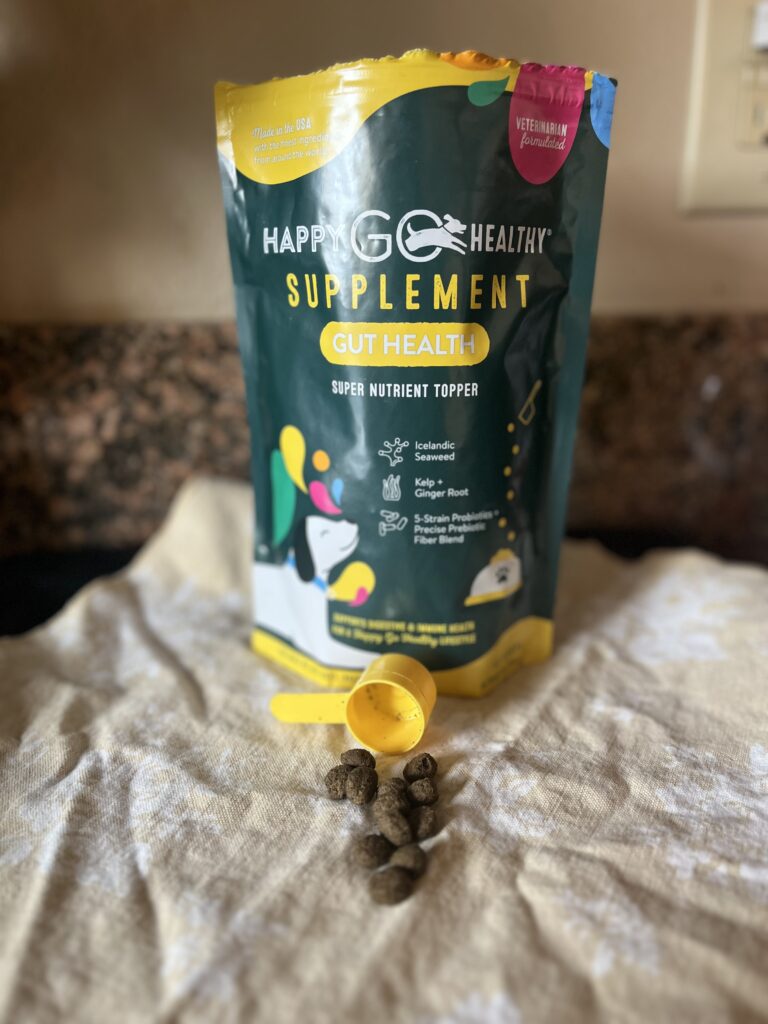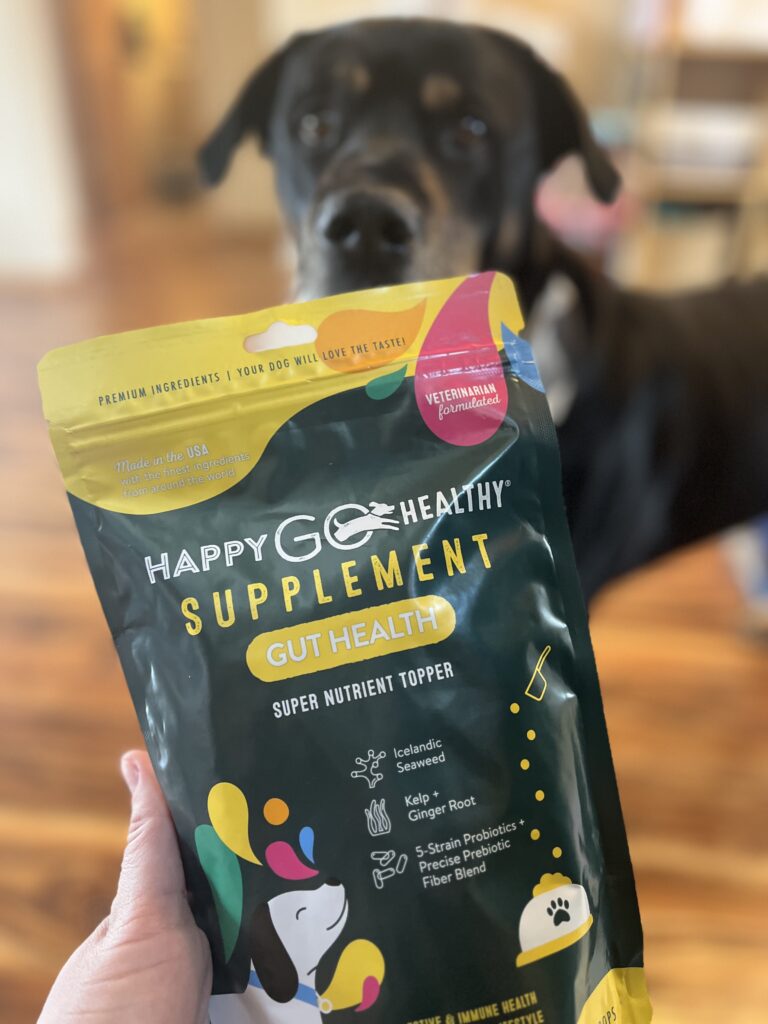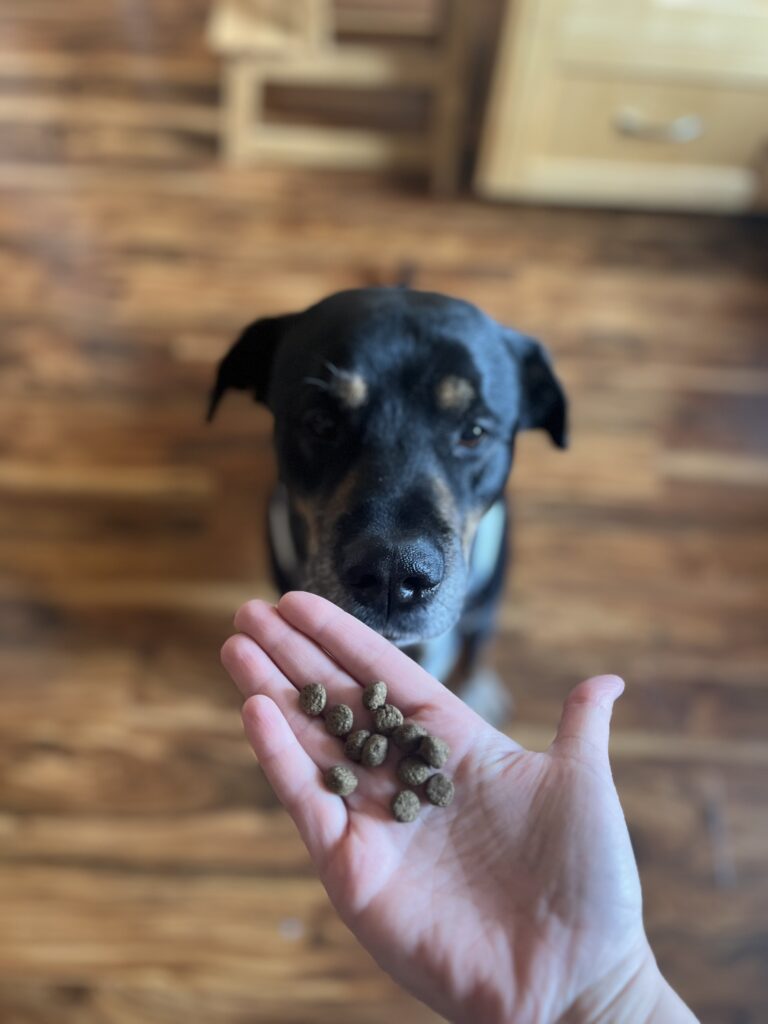 3
Absolutely wonderful! Our pup had a serious bout of gut issues and within days of starting him on the gut health supplement we saw improvement! He loved it so much he was eating it out of our hands as a morning treat!
7 months ago
.
WHY HAPPY GO HEALTHY?
We are the first dog supplement range with immune health at its core. Time, knowledge and research, combined with the brilliance of nature, has crafted this super nutrient topper. Plus, it's easy to feed and keeps your dog's tail wagging with delight.
Made in USA with the finest ingredients from around the world
Committed to using FDA and AAFCO recognized ingredients
NO Wheat, NO Soy, NO Artificial Flavors or Colors